Updated 9/11/10. Listen to our 9/11 tribute show.
Almost eight years to the day of the September 11
th
attacks, I finally made it to
Shanksville
, Pennsylvania to see the crash site of United Flight 93.
The crash site is less than 145 miles from home and yet the drive seemed like a trip to another world.
Shanksville
and it's surrounds bore no resemblance to Manhattan or Washington DC.
In fact, it is hard to imagine a plane that took off in Newark, NJ (within eye shot of the
WTC
) wound up here.
Yet, that is exactly what happened. In fact, it was a mere 4 minutes between the time that United flight 93 cleared the runway at Newark to the time that American 11 hit the north tower of the World Trade Center, striking horror into the hearts of all of us.
As I am just getting over my revulsion of two disgusting human beings (Michael Jackson and Ted Kennedy) being lionized as heroes, I can once again, focus on the true heroes of that day.
It is commonly stated that 40 people fought to retake that plane but that is not accurate.
The first persons to die that day were passenger
Mark

Rothenberg
and Flight attendant
Deborah Welsh.
Minutes later, Pilot
Jason

Dahl
and First officer
Leroy Homer
had also been slain. It was probably Homer's voice on
this very disturbing

Mayday, Mayday

call
.
Hilda

Marcin
was 79.
Jane

Folger
was 73 and her sister-in-law,
Patricia

Cushing
was 69. It is difficult to imagine they played a major role in the attack, probably deferring to the younger crowd. Other older passengers included
Donald Peterson
and His wife
Jean Peterson
, and
Kristin White
- all in their 60's.
Collen Fraser
was only 4 foot 6 and disabled from a degenerative bone disorder. She almost certainly would not have been able to assist significantly in the assault.
John

Talignani
was on the way to claim the body of his step son who had died in a car accident. Who knows how much fight he had in him?
Christian Adams
of Germany was believed to have been the pacifist liberal on board.
Edward Felt
was locked in the bathroom making an emergency call when the plane went down.
There may be others who, for various reasons, were unlikely to have been on the front lines of the counter attack, but we can be reasonably sure that there were no more than 27 or 28 combatants. The actual number was probably less. In fact, the number we can identify for
certain
is not more than 10.
Among those of which there can be no doubt are
Tom Burnett Jr
., who first stated that this was a suicide mission. Burnett was the leader of the group.
It was
Todd

Beamer
who, after praying the Lord's prayer with United operator Lisa Jefferson, spoke those famous words, "Let's Roll!"
Jeremy

Glick
, a former national judo champion is almost certain to have led the attack and
Louis

Nacke
and
Mark

Bingham
were two tough guys that we can confirm were involved. Unfortunatly for Bingham, he had too much to drink at a friend's birthday party on September 10th (also my birthday) and had to rebook on Flight 93. He nearly missed that flight too, the last passenger to board.
The cockpit voice recorder confirms
Alan

Beavan
and
Richard

Guadagno
were in the fight and we know that Flight attendants
Cee

Cee

Lyles

, Wanda Green, Lorraine Bay
and
Sandy Bradshaw
boiled water and procured weapons at the
very

least
.
Cee Cee Lyles was a former police officer and
she demonstrated
she could stay cool under fire.
Friends, and fellow adventures,
William

Cashman
and
Patrick

Driscoll
were on their way to Yosemite National park and it's not unreasonable to assume they joined in.
Donald Greene
was the former pilot everyone was trying to get to the front. It seems reasonable to imagine that 20 year old high school football player
Toshiya
Kuge
would have fought. Facing death, one could very plausibly assert 20 somethings
Deora
Bodley
and
Nichole Miller
would have fought for their lives. Miller is described as a very unselfish person and her parents say that it would have been perfectly natural for her to lay down her life for others.
Andrew Garcia
is another very likely choice. As a former
United Airlines
employee and National Guard air traffic controller, he is believed to have offered to help talk the pilot down after they got him in the cockpit. He was very fit for his 62 years and may very well have been a combatant. We do know that
Lauren Grandcolas
was the EMT who tried to save Mark Rothenberg. She also is known to have loaned her phone to
Honor Elizabeth Wainio
. Wainio is reported to have said to her mother; "I have to go, they are breaking into the cockpit". That seems to indicate her involvement but we can't be sure.
Joseph Deluca
was flying with his girlfriend
Linda Gronlund
. Although I can find no specific information indicating his involvement in the fight, we do know that leader Tom Burnett was reported to have said "We need every big guy". At 6" 3", 235, Deluca would certainly have qualified. It is unclear how Linda would have assisted.
Marion Britton
is one we can eliminate. She was on the phone with her friend Fred until the plane crashed. When he told her about the towers, she said she knew and that two passengers had had their throats cut. Britton told Fred that she knew she was going to die and seemed, I'm sorry to say, too willing to accept that fate without a fight. We do know, however that Britton was on the plane with her Census bureau co-worker
Waleska Martinez
. Martinez was younger and had a reputation for being a tireless worker and a remarkably energetic person. It is not unreasonable to imagine her joining in the fight.
Georgine Corrigan
arrived at Newark Airport early and decided to change flights to United 93, in order to get home earlier, as Flight 93 was scheduled to be a non-stop flight to San Fransisco. Sadly, 15 other passengers also changed their plans to board United 93. She was a pacifist by nature and would not been likely to have been involved in physical attack.
Exactly what happened on that flight and how close they came to saving it, I don't know.
Here is what I do know, for certain....
When I pulled into the fine gray gravel parking lot and exited my truck, I felt those 40 people.
Not just an emotional presence, though certainly that. Not just a Spiritual presence, but that as well.
No, standing on that sacred ground, I felt these people physically.
They spoke to my soul and I heard them. "We had lives" they said. "We had fathers and mothers and husbands and wives and children that were stolen from us by practitioners of a barbaric religion of hate that hides behind the mask of
peace
.
In my heart I know I must do whatever I can do to protect their memory from being defiled by those who would build an Islamic shrine on this site.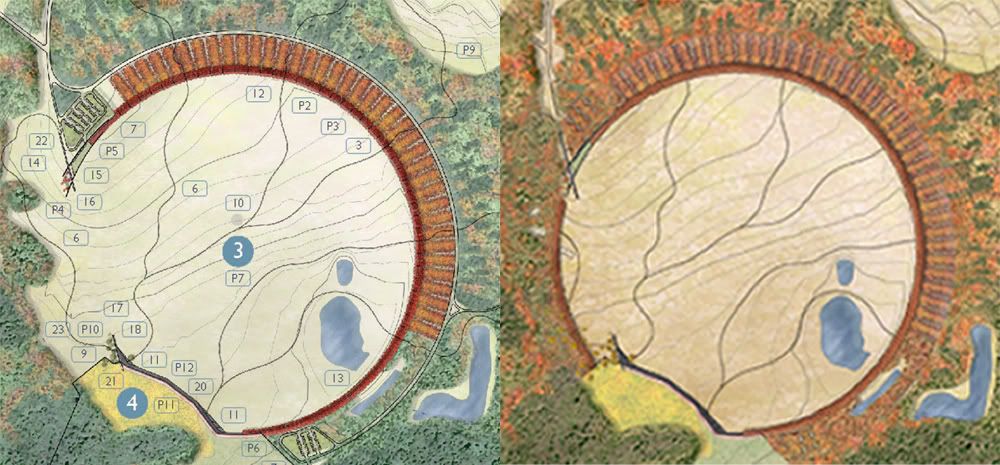 Having now been to this site, I can tell you for certain that the orientation of the design makes the least logical sense. It places the entrance near the trees at the place of worst
accessibility
.
I invite you to visit
Alec Rawls
Crescent of Betrayal
website.
and Never Forget.
http://www.blogtalkradio.com/deeper-truth
deepertruth@comcast.net